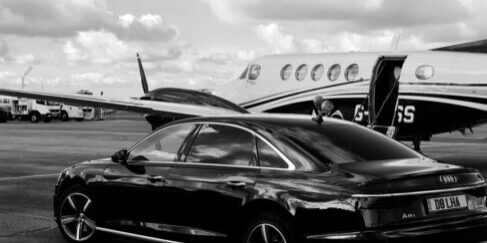 PASSENGER TERMS AND CONDITIONS
Date when these Terms were last updated: 31 August 2022
This document (which is referred to as the "Terms") sets out how you can access and use the Private Executive Platform. Before using and requesting the services made available to you via Private Executive APP or website as they include important information about the services. If you do not agree to these Terms, please do not use the Private Executive Platform.
An explanation of how Services are provided to you and by who. For example, we operate the Private Executive Platform and may also provide Services ourselves via the Private Executive Platform. Services available on the Private Executive Platform may be provided by someone separate, for example by Service Contractors.
In order to provide Private Executive Transportation Services, Private Executive accepts Bookings as a private hire vehicle operator (under the relevant private hire vehicle operating licence) for the purposes of private hire legislation and regulation in the UK.
By agreeing to this Terms, you also agree to comply with our Guidelines.
We keep these Terms updated and we amend them from time to time. Please remember to check these Terms before you use the App/Website Services, as the latest set of Terms will apply in each case.
About us: We are Private Executive LTD, a private limited liability company incorporated and registered in England and Wales with company number 9431682, the registered office is at 7 Ramillies Road, Mill Hill, London NW7 4LY. For any information please contact us at [email protected] or 02032097097 .
DEFINITIONS
"Account" means the account you use to access the Private Executive Platform and request and/or receive Services.
"Private Executive Transportation Service" means the provision of the passenger journey which is the subject of a booking accepted by Private Executive as set out in these Terms.
"Booking" means a booking of Private Executive Transportation Services.
"Guidelines" mean the guidelines, as updated from time to time, which set out expectations of all users of the App/Website Services.
"Website" shall mean https://privateexecutive.co.uk/ .
"App" means the Private Executive application enabling you to request and/or receive Services.
"Privacy Policy" means https://privateexecutive.co.uk/privacy-policy/ .
"Users" means those members of the public, including you, who request Transportation Services through the Private Executive APP/Website.
"User Content" means any text, images, or other information that you provide to Private Executive while using the Private Executive Platform.
"Service Contractors" are independent third parties and include, but are not limited to, independent licensed transportation providers.
"we", "our" or "us" means Private Executive.
"Driver" means a driver licensed to provide private hire services who is authorised to transport a     Passenger for a Journey on Private Executive's behalf.
"PHV" means private hire vehicle.
"Fare" means the fare payable by Passengers for Journeys.
"VAT" means value added tax.
PRIVATE EXECUTIVE TRANSPORTATION SERVICES
In respect of 1988 Act, Private Executive LTD holds the relevant private hire operator licence in London, UK and performs all regulatory and associated functions for the benefit of Private Executive.
A request for a Booking constitutes an offer by you to purchase Private Executive Transportation Services in accordance with these Terms. This Booking request will set out the main characteristics of the Private Executive Transportation Services (including pick up and drop off points). Your offer shall only be accepted when Private Executive issues written confirmation of the relevant Private Executive Transportation Service via text message, e-mail or push notification from Private Executive's mobile application, at which point and on which date and time a contract for Private Executive Transportation Services to which the Booking relates shall come into existence ("Contract "). There is no obligation on us to accept a Booking and it may be declined for any reason. ​​If a driver becomes unavailable after we have provided you with written confirmation of the Contract, we will endeavour to find you another driver for your Booking. Where an alternative driver cannot be found, we reserve the right to terminate the Contract without compensation to you. In case the FARE for a journey was paid upfront you will receive a refund in full.
We will inform you of the estimated time of driver arrival and estimated time of journey completion, but these are estimates only and time shall not be of the essence. If we cannot accept your Booking request, we will inform you of this. Your Contract will end when the passenger journey ends or as otherwise may be provided for in these Terms. You acknowledge that while receiving the Journey: the Driver can take any reasonable route to your requested destination, you can amend your route in consultation with your Driver, in which case, your Fare can change, in an extraordinary situation (such as mechanical breakdown or civil emergencies) can result in your Driver being unable to complete your Journey.
The price for the Contract (which will include VAT, if applicable) will be provided to you via Private Executive's mobile application or website before you place your Booking request. This may include relevant surcharges (including airport pickup, drop-off, tunnel tolls, parking or other airport charges) and/or tolls, road charging schemes, including congestion charge, charges for low emission or similar zones, and road tax. You may be charged a different amount than the price provided in certain situations, including but not limited to, material changes to the pick/up drop off point, route taken, driver waiting time, extra stops. In this situation, the rates that will apply will be available to you via Private Executive's mobile application or website. These may be modified or updated from time to time. It is your responsibility to remain informed about the current rates for the transportation services. Additional charges may also apply, for instance if you, or any passenger, soils, contaminates, or damages a vehicle, in which case you may be charged for such damage, as well as for a cleaning fee as more particularly set out in our Guidelines.
Private Executive may make changes to its Private Executive Transportation Services at any time, including to reflect changes in relevant laws and regulatory requirements.
If there is a problem with Private Executive Transportation Services, or if you have a complaint, please contact us on the details set out in the "About Us" section above.
ONLINE BOOKING
App / Website Services
By accessing and using the App/Website Services you accept these Terms:
Private Executive mobile application or website may be made available to you depending on the Private Executive Product(s) you are accessing or using at the time.
Private Executive's mobile application or website can be downloaded or accessed on mobile devices with an internet connection and equipped with popular operating systems such as Android or iOS.
You are responsible for obtaining the network access necessary to use the App/Website Services and are responsible for any rates and fees from your mobile network provider, including from data consumption while using Private Executive's mobile application or website. You are also responsible for obtaining compatible devices and operating systems necessary to use the App/Website Services, including any software or hardware updates.
We provide the App/Website Services "as is" and "as available." The App/Website Services, or any related digital content, may be subject to limitations, delays, or other problems inherent to the use of the internet and electronic communications and are not guaranteed to be available, uninterrupted or error free always. Private Executive may suspend or withdraw or restrict the availability of all or any part of the App/Website Services for business and operational reasons. Private Executive will try to give you reasonable notice of any suspension or withdrawal.
To use the App/Website Services in the United Kingdom, you must register in Private Executive's mobile application or website and preferably register an account and you must be eighteen (18) or older.
You must provide us with certain personal information to register and set up your account, including your phone number and e-mail address. To use the App/Website Services, Private Executive Services you may need to provide at least one valid payment method (that is, a credit card, debit card or any other accepted payment method). You may need to provide additional information before using certain Private Executive Services, such as your address. You must provide accurate and complete information when you register an account and when using the App/Website Services.
You are under no obligation to log in to, or use, Private Executive's mobile applications or website. If you choose to stop using Private Executive's mobile application or website, you may do so without giving us any notice.
Private Executive may temporarily restrict your access to and use of the App/Website Services if there is a suspected breach of your obligations or otherwise of these Terms, including where we receive a complaint in relation to fraud. There may be circumstances in which we are unable to provide you with information about the complaint whilst an investigation is ongoing (by us or a third party such as the police).
When using the App/Website Services, you must comply with all applicable laws. You may only use the App/Website Services for lawful purposes and for the purposes for which they were intended as otherwise referenced in these Terms. You must not misuse Private Executive's mobile application or website or attempt to defraud either us or Third-Party Providers.
Your account is personal to you. Your account cannot be licensed or shared unless expressly permitted by Private Executive. Once you have set up an account, you:
may not register more than one account unless we agree otherwise in writing.
may not allow third parties to use your account or transfer your account to a third party.
must keep your account information accurate, complete and up to date.
must always keep your login details safe and confidential
must tell us immediately if you have any reason to believe that someone else knows your username or password or if you suspect that someone else is using your account.
Private Executive makes reasonable efforts to update the information provided through the App/Website Services, Private Executive makes no representations, warranties or guarantees, whether express or implied, that the content on the mobile application or website is accurate, complete or up to date.
Private Executive reserves all rights not expressly granted in these Terms. The App/Website Services, and all data gathered through Private Executive's mobile application or website are and remain Private Executive's property.
PAYMENTS
Our accepted payment methods are cash to the driver, bank transfer or card payments set out on Private Executive App or website. When Private Executive has completed the Private Executive Transportation Services, if you think a payment is incorrect, please contact us to let us know. You can make changes to your Contract only by contacting us, we will confirm if the change is or not possible.
The Fare may be modified in Private Executive's mobile application or website from time to time. The Fare does not include tips. Where available, you may pay tips, either in person or through Private Executive's mobile application or website. We will collect tips paid through Private Executive's mobile application or website on your behalf and remit them.
BOOKING CANCELLATIONS
Your right to cancel a Contract depends on when you decide to end the Contract. There will not be any charge for bookings which are pre-paid witch have a cancellation notification period of 24 hours to the actual pickup time. If the passenger missed the flight and inform us in advance either by e-mail, text or via phone will not be charged in full (all cancellations are subject to a minimum fee of £15). No refunds will be issued for the following: User provides us the wrong flight number, cancellations notified under 24 hours prior pickup time, If the User provides us with misleading information, If the user makes the booking for the wrong date, Passenger was not available when the driver arrives at the pickup. Private Executive will make refunds due to you as soon as possible, where applicable.
NO SHOW
No show is defined as follows: If User makes a Booking and fail to meet the driver at the pickup location or not contacting us for any delay of the pickup time: Airport and Cruise Ports pickups allow 60 minutes from airplane landing/docking time, all other pickups including train stations, hotel or home allow 15 minutes.
SPECIAL FARES
Our Prices will be 100% higher on all UK Bank Holidays more info can be found on https://www.gov.uk/bank-holidays , this is due to limited drivers available.
Additional drop offs and pickups will be charged by our system with a minimum fee of £7 per diversion.
Please note that we offer child seats as a courtesy service, we make every effort to ensure child seats are available, we cannot guarantee suitability for your child, or availability for your journey. Usage of child seats are entirely at the user's discretion and we cannot be held responsible or liable for their usage.
LIABILITIES
Please note that all private hire vehicles are required by law to hold and maintain PHV insurance for drivers to legally carry and transport passengers. If your problem relates to a motor incident, please contact us for your driver's insurance details in order to progress matters. We will not be liable for any matters covered by your driver's PHV insurance unless and until you have exhausted all potential remedies related to motor accidents.
If Private Executive is liable to you in connection with the Booking Services or Private Executive Transportation Services, its liability, insofar as is permitted by law, will be limited to an amount equal to £500 in aggregate.
Private Executive does not exclude or limit its liability in any way to you where it would be unlawful to do so. This includes liability for death or personal injury caused by our negligence or the negligence of our employees, service contractors, for fraud or fraudulent misrepresentation and for breach of your legal rights in relation to the Private Executive Transportation Services.
Private Executive accept no liability for the following: Severe traffic delays, Road Closures, Extreme and poor weather conditions.
DISPUTES
Should you have any dispute, conflict, claim or controversy with Private Executive, the Private Executive Platform, any Services or Service Contractors (for example, disputing a payment), you must first contact us. We will then discuss and agree with you the most effective way of resolving the dispute.
LOST PROPERTY
Please contact us with as much detail as possible and we will investigate your enquiry. Private Executive is only responsible for loss or damage to property left in a vehicle if the loss or damage results from Private Executive's negligence.
PRIVACY POLICY
Private Executive is committed to ensuring that your personal data are respected and protected. The personal data of Passengers disclosed to active drivers is limited to Name, and details about a journey (special instructions, pickup location, time, drop off etc.), the driver will be able to contact our office for any help and the User will be able to contact only us. A direct contact with the driver will only be possible trough Private Executive app where you cand send a direct message to the driver's app. More info about Privacy Policy can be found on https://privateexecutive.co.uk/privacy-policy/ .
TERMINATION
You are always free to use the App/Website Services (where and when available) and may terminate these Terms and the App/Website Services by closing your account by sending us an e-mail at [email protected] .
Private Executive may, in its sole discretion, terminate these Terms or discontinue the App/Website Services at any time by giving you reasonable advance notice in writing, you must immediately pay any outstanding charges.
GUIDELINE
Our guideline was developed to help make every experience with the Private Executive mobile application, Private Executive website, feel safe and respectful. They apply to everyone who uses Private Executive's Platform, including but not limited to drivers or users. These guidelines are not contractual terms, and we may amend the content of the same at any time.
Passenger behaviour
Please try to be on time for your journey. It's also common courtesy not to shout, swear or slam doors. And by tidying up after yourself—whether it's taking your rubbish home or cleaning up a spilt drink—you'll help ensure that everyone has a pleasant journey.
When traveling with Private Executive, the account holder is responsible for the behaviour of their entire party. If you request a journey for another adult, you're held responsible for their behaviour during their trip.
Car seats
Passengers should comply with applicable laws when travelling with infants and small children. Where use of a car seat is required by law, it's the Passenger's responsibility to provide and fit a suitable car seat. Children aged 12 and under should travel in the back seat.
When picking up Passengers travelling with small children, drivers can give them extra time to properly install a car seat before driving off. If a Passenger doesn't have the appropriate car seat can request in advance if we have available to provide one for that journey, however if a driver is not comfortable with a Passenger installing one in their car, if a child does not appear to be within the height and weight safety requirements for the car seat, or if a driver otherwise feels that the child cannot be safely transported in the seat, the driver can cancel the trip with Private Executive.
Cleaning Fee
When traveling with Private Executive, the user is responsible for any additional charges that may apply where the user, a member of their party or another adult for whom the user  has requested a journey, soils, contaminates, or damages a vehicle, in which case the user may be charged for such damage, as well as for a cleaning fee.
Breaches of User Terms and these Guidelines
Breaches of the User Terms or these guidelines include behaviour which, in our opinion, is likely to prejudice our business or reputation or irreparably damage the relationship and trust between us. The following are examples of matters that are normally regarded as potential breaches of these guidelines or the User Terms:
theft or fraud.
physical violence, bullying, sexual assault or sexual misconduct.
deliberate and serious damage to property.
unlawful discrimination, victimisation or harassment.
This list is intended as a guide and is not exhaustive.